INTRODUCTION: RESPONDING TO REVIEWS
To help you respond to reviews better, we looked at 200,000 review responses in the UHM Digital database and combined their best features to make templates you can use to respond to your negative, positive, and neutral reviews.
Why is responding to reviews so important? Consider this:
94 percent of consumers say that a bad review has convinced them to avoid a business.
53 percent of customers expect businesses to respond to negative reviews within a week.
But 63 percent say that a business has never responded to their review.
45 percent of consumers say they're more likely to visit a business that responds to negative reviews.
The takeaway: respond to reviews before they drive your customers away.
Each section below has copy-and-paste review response templates you can use as a starting point for getting back to customers ASAP. In addition, there are lots of real-life examples of restaurants, banks, hospitals, and other businesses responding to their customer reviews.
How to Respond to Positive Reviews
How to Respond to Negative Reviews
How to Respond to Neutral Reviews
How to Respond to Employee Reviews
How to Respond on Google, Yelp, Facebook, and Other Sites
How to Respond to Negative Reviews
Responding to negative reviews is difficult. Bad reviews hurt. Sometimes they can be downright cruel.
It's natural to get upset, but when you've lost your cool, or if you feel like retaliating, it's wise to step away from the keyboard. You can't let your emotions dictate what you're going to write in your response to a negative review.
Here's a template you can use for your negative review response:
Dear [NAME OF REVIEWER], thanks for sharing your feedback. We're sorry your experience didn't match your expectations. It was an uncommon instance and we'll do better.

Please feel free reach out to [INSERT CONTACT INFORMATION] with any further comments, concerns, or suggestions you wish to share. We would love to make things right if you give us another chance.
Think of the above review response example as an all-purpose one. Obviously, how you respond to negative reviews will vary from situation to situation.
But if you examine the way highly rated businesses win over their reviewers, you'll notice that the response above applies some of the best practices in responding to bad reviews.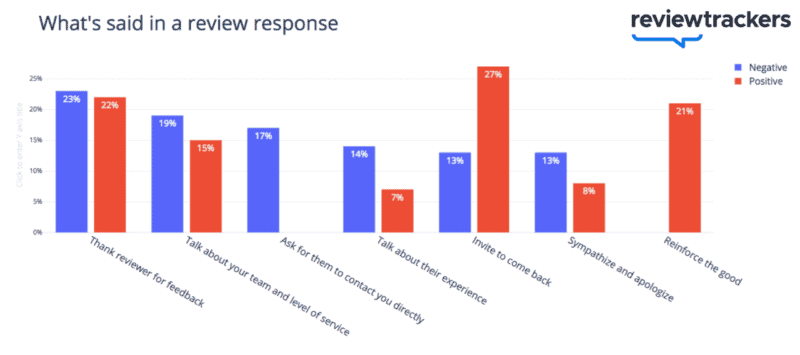 After looking at 200,000 review responses, and analyzing the differences between positive, neutral, and negative reviews responses, we found the best ways to respond to each type of review.
When the feedback is negative, businesses focus more on engaging directly with the customer, showing the willingness to understand and sympathize with their experience, and offering them an easy way to access the business — usually including direct contact information.
Notice that while businesses do apologize, that's a relatively small part of the response (13 percent)—and that makes sense: it can come across as unprofessional to be overly apologetic. Instead, brands focus on their commitment to service and "next steps" (e.g., how a consumer can contact them directly).
7 Steps to Crafting the Right Review Response: Negative Reviews
1. Address the reviewer
Your customers want to be heard individually and addressed personally. So don't forget your salutations and, if possible, avoid the generic "Dear guest," or "Dear customer."
Because 76 percent of reviews are now on Google or Facebook, you can usually get a first name for the reviewer.
2. Say thank you
Show customers that your business appreciates and values candid feedback, and always remember to say thank you in responses to reviews (even the bad ones).
Some things you can say:
"Thank you for your review. I'm sorry to hear you had such a frustrating experience, but I really appreciate you bringing this issue to my attention."
"Thank you for bringing this to our attention. We're sorry you had a bad experience. We'll strive to do better. "
"Thank you for letting us know about this. Your feedback helps us get better. We are looking into this issue and hope to resolve it promptly and accurately."
3. Apologize and sympathize
Saying sorry shows that you care about your customers and that you're not too proud to own up to your mistakes.
Even if it's not your fault, and there will be times when this is true, say sorry anyway. Besides, people don't like businesses that are too perfect or too proud to apologize.
Keep your apology short and sweet like this:
"We apologize that our service did not satisfy your expectations."
"We're so sorry that your experience did not match your expectations. This is on us."
"We set a high standard for ourselves, and we're so sorry to hear this was not met in your interaction with our business."
4. Take responsibility
Don't make excuses. Even if what happened was an uncommon instance, an isolated case, an unfortunate incident, an off day — acknowledge the customer's experience. At the same time, provide reassurance that you hold yourself to high standards.
Some things you can say:
"I'm so sorry. We're normally known for our exceptional attention to detail, and we regret that we missed the mark."
"We always aim to deliver a great experience. We are gutted when we miss the mark! Thanks for taking the time to bring this to our attention. We will use the feedback to make us better and to ensure this doesn't happen again."
"Thank you for posting a review and we're sorry to hear that your experience was not of the quality you expected. We would like the opportunity to investigate your feedback further."
5. Make things right
Avoid cookie-cutter responses that do not resolve or address any specific issues raised in the review. Be as specific as you can about the customer's experience, and communicate any changes or improvements you have made or will make as a result of their feedback.
If there's nothing you can do to fix what happened, here's a really compelling way to respond to the reviewer, take ownership, and promise to make things right in the future:
"I apologize on behalf of everyone at [Company Name]. Please know that your situation was an exception. As you can see in other reviews, we are known for taking ownership and caring deeply about our customers. We can't fix the past but you have my personal commitment to improving the way our staff serves every customer. Until then, please accept my sincerest apologies on behalf of everyone on the team."
6. Take the issue offline
It's best for you and your customer to talk directly about the problem they had and take the issue offline. For this reason, brands will provide direct contact information for their customers in their review response.
Some things you can say:
"We would like the opportunity to investigate your feedback further. Please, could you contact me at [Email Address] or call our team at [Phone Number]? We'll work with you to resolve any issues as quickly as possible."
"We are sorry that your experience at [Company Name] didn't quite match your expectations. We would love to know why, so that we can deliver a better experience next time. You may reach us anytime at [Email Address] or [Phone Number]. Again, thank you for your feedback!"
7. Ask for a second chance
Don't slam the door on negative reviewers; extend a hand. Invite them to come back; when they do, welcome them with open arms.
Not only does this create an opportunity for you to change the conversation; it also establishes confidence in your ability to deliver an experience worth raving (instead of ranting) about.
Some things you can say:
"Thank you for bringing this matter to our attention. I'm very sorry we failed to meet your expectations. I would appreciate another chance to earn your business. Please call me or ask for me next time you're at [Company Name]."
Tips on Responding to Rating-Only Reviews (No Text)
Before we dig into some more examples, a word about an increasing trend we're seeing with reviews: rating-only reviews.
These reviews have no text, just a star rating. And it can be puzzling to know what to say to someone who leaves a blank 1-star review of your business.
When someone leaves a review without any text, it makes sense to keep your response brief and to the point. Ask the reviewer to elaborate privately about their experience and provide contact information for them to do so like in these examples:
"We invite you to contact us at [Email Address], so we may discuss your specific personal experience at [Company name].  Thank you."
"Your review is very concerning to us. We would appreciate if you would contact our customer care team by calling [Phone Number] to speak with a customer care representative about your recent experience. "
"We are sad to hear that you didn't have the best experience at [Company Name]. You deserve better. Please reach out to me at your leisure so we can make it right.  [MANAGER NAME, PHONE NUMBER]"
Examples: How to Respond to Negative Reviews
Restaurant Negative Review Response Example
Restaurateurs know that delicious food doesn't always guarantee a 5-star review. Take notes from this heartfelt response to a review that commented on other aspects of the dining experience.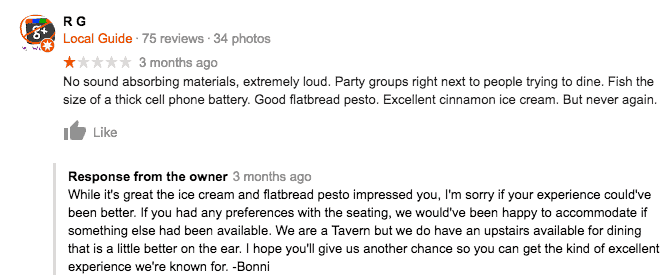 Why it works: In the response, the restaurateur seems genuinely sorry that the guest's experience "could've been better." The response also offers ways to deliver a better or more satisfactory experience next time — while keeping the tone polite and professional. By highlighting the upstairs seating, the response not only offers a solution to this diner but also offers a tip to prospective diners who may be reading this review in the future.
Hotel Negative Review Response Example
When a loyal customer expressed her disappointment with her anniversary stays at the Stamford Plaza in Brisbane, executive assistant manager Dale John wrote a pitch-perfect response.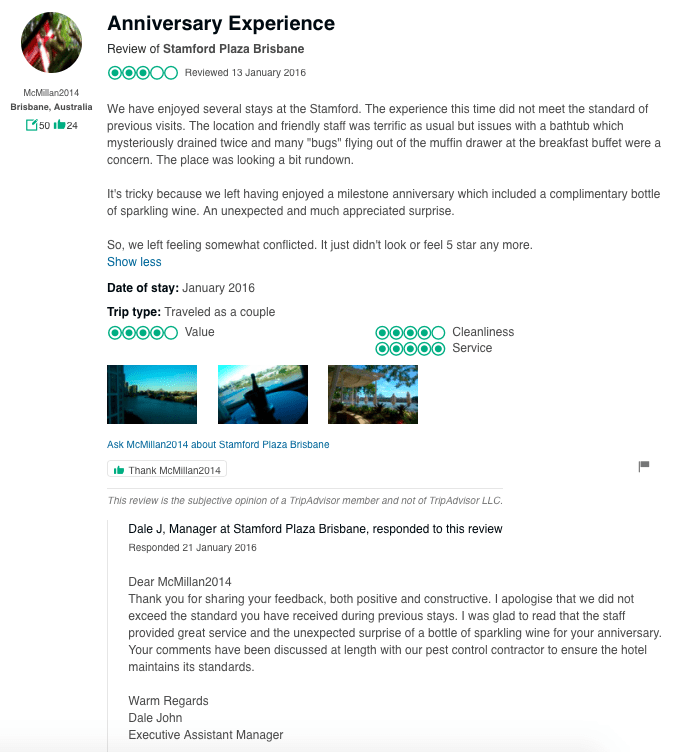 Why it works: The response addressed the reviewer and started with a "thank you." It was also very specific about the customer's experience, and it provided information on how the hotel planned to resolve certain issues and maintain its usual standards.
Healthcare Negative Review Response Example
For healthcare providers, it's a little bit trickier to craft responses to negative patient reviews.
With the Health Insurance Portability and Accountability Act (HIPAA), which is designed to safeguard patients' health information, healthcare marketers must be able to respond without referring to any specifics about medical care or the patient's identity, which could be construed as "patient data."
You can read the guide on how to write HIPAA-compliant review responses. Here's a great example:

Why it works: The review response addresses specific issues without breaking confidentiality. It also communicates the provider's concrete plan to make things right ("We recently hired a consultant…"). And the response wisely offers to take the conversation offline — demonstrating the provider's genuine desire to engage with the patient and solve the problem.
Financial Services Negative Review Response Example
Negative reviews can also hit banks and financial services, providers. By replying ASAP, you can minimize the possibility of other potential clients being swayed by the original reviewer's experience.

Why it works: This review response feels sincere instead of defensive. Sometimes, simply thanking the customer for their feedback and apologizing can go a long way. Take note, too, of the offer to take things offline and discuss the issue privately.
Veterinary Clinic Negative Review Response Example
Here's another example of a response to a negative review; it's from a veterinary clinic, a business in an industry in which emotions can run high, especially in times of a pet's health crisis.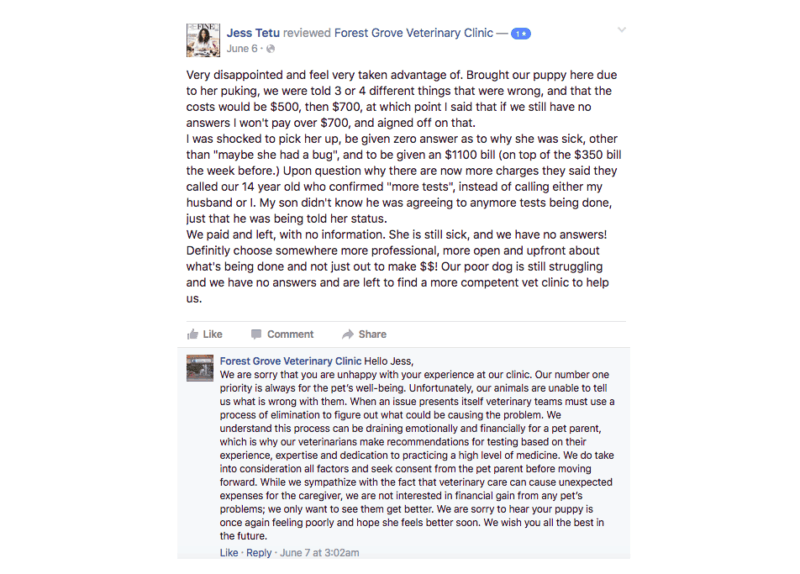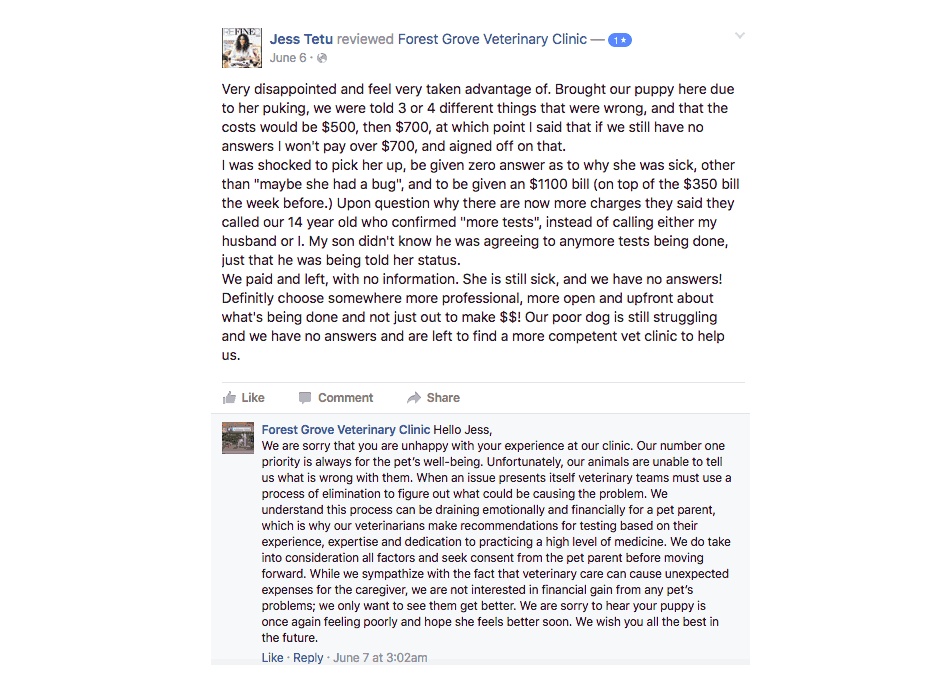 Why it works: Pet parents can be extremely vocal and opinionated. There will always be people who are going to be convinced that their vets are just "in it for the money" and don't really care about the welfare of their animals. In response to the negative Facebook review, Forest Grove Veterinary Clinic posted a classy reply that highlighted the company's values while also directly addressing the customer's experience.
Travel and Hospitality Negative Review Response Example
JetBlue Airways' Twitter account serves as one of the company's main customer service channels. When a customer named Esaí Vélez complained (politely) about his backseat TV not working, JetBlue responded within minutes.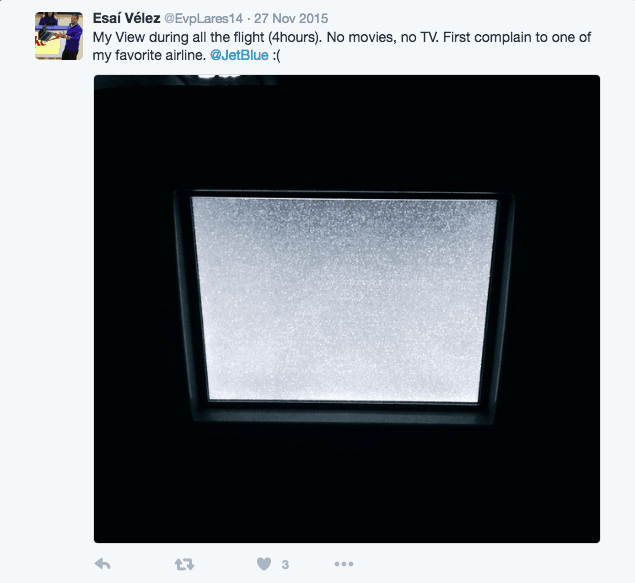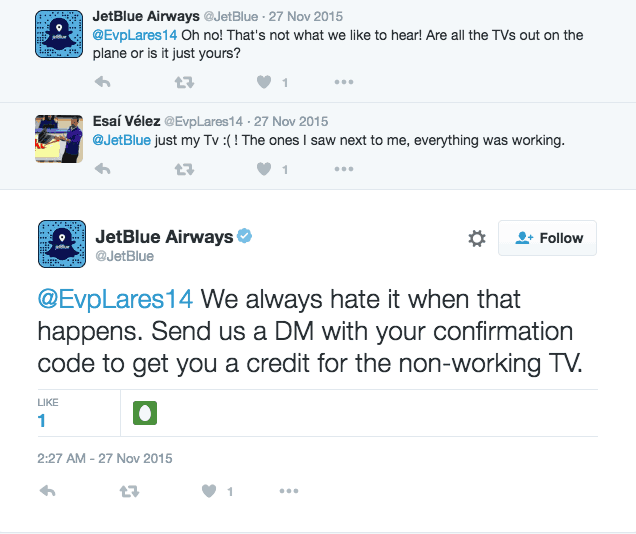 Why it works: The swiftness with which JetBlue responded is impressive. While it's a response to a tweet instead of to a review, the short reply effectively displays sympathy while also offering a solution (or at least a genuine attempt to make amends).
Says best-selling author and customer service expert Chip Bell: "In the customer's mind the clock starts when he or she posts a negative review, and your reputation drops with every hour you delay providing a response. Bad reviews that remain unanswered signal to other customers you are disinterested. It also fuels the perception that the negative report by an angry customer was probably accurate."
Best Practices When Responding to Negative Reviews
Respond in a timely manner
As mentioned earlier, more than 50 percent of customers who have written reviews expect a response in seven days or less.
1 in 4 have an even shorter time frame: they expect to hear back from the business within three days.
Set up review alerts so you are notified of new reviews. Also, you definitely don't want to be logging in and out of every review site manually — so a review response tool may be useful.
Remember: the clock begins ticking once reviews are posted, and customers are waiting to hear back from you.
Assign ownership of the process
Identify people in your organization who will be directly involved with responding to bad reviews. This is actually complicated because reviews live at the intersection of marketing, operations, social media, and customer service. There are a lot of stakeholders.
Typically speaking, we see that branch or location managers, social media teams, marketing teams, and customer service staff are typically the people who are put in charge of review response.
Clarifying who is in charge of responding to reviews is important not just because it simplifies the process—it will also increase your review response time, a key customer success metric.
Whoever steps up as the head of your review response program should understand the guidelines of each review site, be able to transform the collected feedback into valuable insights for your company, and — perhaps most important of all — display the right tact needed to address complaints and represent the brand well.
Create a review response policy
If you operate in multiple locations, chances are more than one person will be assigned to respond directly to online reviews.
This makes it crucial to have an organization-wide policy that guides how your company should proceed whenever new customer reviews are posted online.
Your policy should cover things like what language and tone you should use, what the timeline is for getting back to customers, with whom the reviews will be shared in your organization when do escalations become necessary, what the ideal response rate is, and other items that may affect how your company handles reviews.